Bonjour, travel connoisseurs and ardent admirers of the French charm!
At Lauthentic France, we are thrilled to announce a new chapter in our ongoing saga of providing guests with experiences that showcase France's beauty, charm, and timeless elegance. Today, we bring you an exciting narrative that charts a course through the tranquil waterways of France, delving into the birth of a magnificent entity – Royal Canals.
Born from the harmonious merging of the esteemed Savannah and Amour Barges, Royal Canals is a testament to the vision and craftsmanship of Captain Adrien BRAMOULLE, an industry leader with an unwavering dedication to showcasing France's authentic allure.
Introducing Royal Canals: The Harmony of Elegance and Romance
Under the diligent ownership and management of Captain Adrien BRAMOULLE, we've witnessed a spectacular fusion, marking a transformative moment in the river barge cruise industry. The Savannah and the Amour Barges, each an icon in its own right, have been seamlessly blended to create Royal Canals. This entity exemplifies luxury, romance, and authentic French experience.
The Savannah Barge, known for its opulence and elegance, and the Amour Barge, renowned for its romantic ambiance, are now part of an exquisite fleet that sails majestically along the stunning waterways of the UNESCO World Heritage site, Canal du Midi. This unity forms the backbone of Royal Canals, providing guests with an experience that is not only immersive but also unique in the sense that it combines the very best of two distinct yet harmonious worlds.
Embrace the Exquisite Experiences of Royal Canals
The heart and soul of Royal Canals lie in the diverse range of experiences we offer, which sets us apart in this industry. Each journey is unique, meticulously curated to ensure our guests have an unforgettable travel adventure.
Immersive Tours and Activities
At Royal Canals, we firmly believe that to experience a place truly; one must delve beneath the surface and immerse themselves in its history and culture. Our expert guides offer captivating tours of the region's most impressive châteaux, each echoing the grandeur of French aristocracy. The medieval fortress of Carcassonne, the majestic Cathar Castles, and the charming medieval towns, each location has its unique tale waiting to be discovered.
Culinary Delights and Wine Tasting Experiences
The gastronomical heritage of France is globally renowned. At Royal Canals, we go to great lengths to ensure our guests experience the best of it. Indulge in delectable gourmet meals prepared by our talented chefs onboard, using the freshest locally sourced ingredients. Or partake in exclusive wine-tasting sessions at some of the most esteemed vineyards in the Languedoc region, a region cloaked in viticultural secrets and history.
Serene and Relaxing Environment
Experience tranquillity at its finest as you glide along the Canal du Midi. Surrounded by enchanting landscapes and gently rolling hills, the peaceful ambiance allows you to disconnect from the stresses of everyday life and reconnect with nature. Our barges, equipped with luxurious facilities, offer the perfect setting to unwind, soak in the views, and revel in the timeless beauty of the French countryside.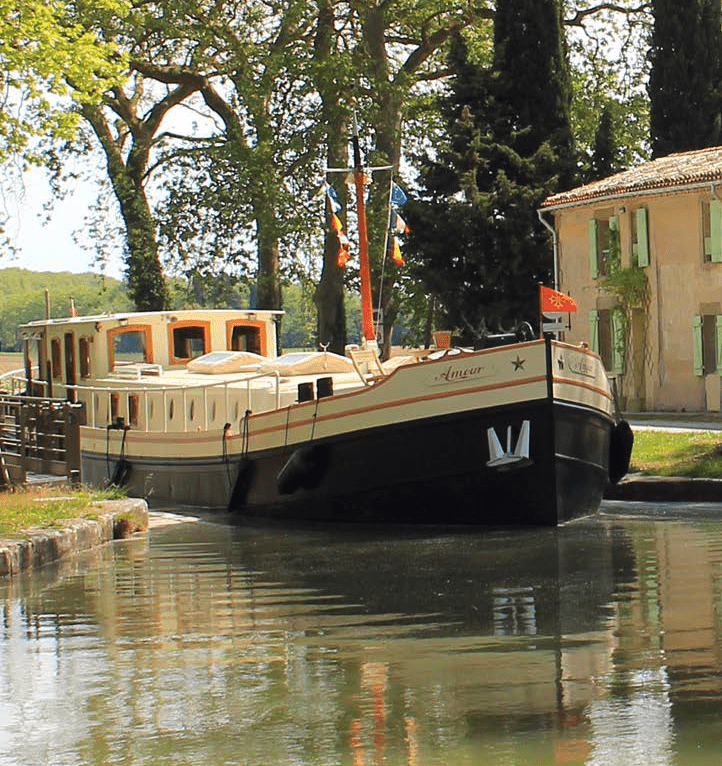 The Heritage of Savannah and Amour Barges
Long hailed for their exceptional service, Savannah and Amour Barges have left an indelible mark on the river barge cruise industry. They were the epitome of luxury, with spacious cabins, elegant furnishings, and a crew that always went the extra mile to ensure the comfort and satisfaction of guests. This commitment to excellence is now carried forward by Royal Canals, offering a rejuvenated yet familiar experience to its guests.
The Dawn of Royal Canals: A Symbol of Unity
The formation of Royal Canals represents a union of heritage and luxury. As a single entity, it takes the legacy of Savannah and Amour Barges forward, infusing it with a modern touch that elevates your travel experience. With enhanced services and facilities, Royal Canals promises a voyage that blends the rich cultural history of France with contemporary comforts while preserving the authenticity and charm of the Canal du Midi.
In conclusion, the unveiling of Royal Canals marks a landmark moment in the realm of river barge cruises along the Canal du Midi. By merging Savannah and Amour Barges under the aegis of Royal Canals, we have crafted a distinctive travel experience that is immersive, luxurious, and authentically French. Whether discovering historical marvels, indulging in gastronomical delights, or simply finding serenity amidst breathtaking landscapes, it promises a captivating journey that will etch itself into your memories.
We cordially invite you to embark on this extraordinary voyage, to experience France like never before, and to create memories that will be cherished forever. Welcome aboard; your French adventure awaits!