L'Impressionniste is in many ways similar to our other 12 passenger hotel barge in Burgundy, La Belle Epoque – offering an onboard ambience that combines traditional and more modern French influences.
Discover L'Impressionniste
Cruise along Burgundy Canal
Similar to our other 12-passenger hotel barge in Burgundy, La Belle Epoque, L'Impressionniste offers a delightful onboard atmosphere that blends traditional and contemporary French influences.
L'Impressionniste glides gently through the picturesque Ouche Valley in Southern Burgundy through locks with their charming lock houses. You will see medieval villages perched on hilltops and have the opportunity to discover a region famed for its history and viticulture, with visits to such places as Beaune, the regions 'wine capital', and the elegant city of Dijon.
Her light and airy interior features picture windows and prints reminiscent of the era after which she has been named. In the spacious saloon with its rich-coloured teak flooring and soft lighting, there are balloon-backed dining chairs and comfortable leather sofas that complete the effect.
two junior suites or four staterooms
The cabins, each one bearing the name of a renowned Impressionist painter, offer a choice of accommodation in two junior suites or four staterooms, complemented by modern en-suite shower rooms. Twin or double bed configurations are also available.
Your onboard chef prepares all meals fresh, with most being served as a set-menu (no choice available). However, with at least 8 weeks' notice prior to departure, vegetarian, pescatarian, vegan, and non-allergenic dishes can be served to accommodate your dietary preferences.
Start your day with a wholesome and balanced variety of breakfast foods, along with freshly baked bread and pastries, freshly-squeezed orange juice, and hot beverages. Lunch features regional specialties and a selection of quality wines, while dinner offers a candlelit four-course gourmet experience. On the last night, the Captain's farewell dinner is held, and guests may choose to dress slightly formal.
Enjoy E-W creative cooking and regional specialties such as Filet d'Agneau au Basilic, Magret de Canard au Ratafia de Bourgogne, Poulet à L'Estragon, and Filet de Boeuf Charolais avec Sauce Epoisses cheese. Pair your meals with wines from our wine cellar, which includes Domaine Laroche, Chablis Premier Cru; Domaine Bruno Clair, Marsannay; Domaine Bouchard Père & Fils, Meursault 'Les Clous'; Domaine Comte Georges de Vôgué, Musigny; Château de la Saule, Montagny Premier Cru; and Domaine Jadot, Ladoix 'Les Clous d'Orge'.
Finally, indulge in our Cheese Board, which includes Aisy Cendré, Bouton de Culotte, Epoisses, Ami du Chambertin, and Le Petit Vougeot.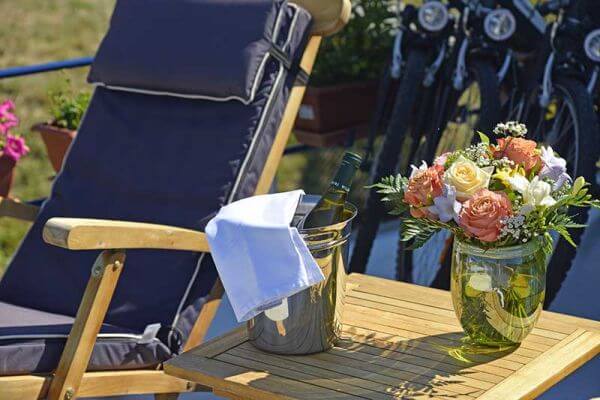 5 Star Class Barge
Burgundy Canal
Visit Clos de Vougeot, home of the Chevaliers du Tastevin
Tour of Dijon and its markets
Private falconry display & tour at the Château de Commarin
Tour of Domain Chanson including a private wine tasting and exclusive gastronomic lunch
Visit to medieval Châteauneuf-en-Auxois
Optional hot air ballooning
Excellent towpath for walking and cycling. "Biking Plus" option available
This barge tour exceeded our expectations. We are thinking of trying another one.
It was a wonderful experience. The countryside was breathtakingly beautiful and the food on the barge was world class. You'lll love it
The excursions, except for one, were very nice. One suggestion. On the Thursday we went to the Chateau du Clos de Vougeot in the afternoon and before then we went to a rather ordinary winery. I would suggest skipping the morning winery and instead participating in the 11:30 am guided tour in English followed by lunch and winetasting at Chateau du Clos de Vougeot. The food on L'Imppressionniste was spectacular--particular kudos to chef Arneis.