Toulouse can only be evoked with emotion and excitement. The city seduces and amazes the visitor with its cultural dynamism and its youth shining a new light over an otherwise traditional and typically French town. It resolutely is a charming and vibrant city, where tourists and locals alike can enjoy a certain nonchalance, while following the river from one activity to the other. Tinted in pink and lighten up by the Southern sun, Toulouse is a true gem in the French province.
Most shops are open between 10:00 and 19:30 (or 19:00) from Monday to Saturday, with a lunch break usually between 12:00 and 14:00. Department stores and shopping centers have longer opening hours (until 20:00) and no lunch break. Convenience stores and supermarkets are usually open between 8:30 and 20:30 or later with no interruption.
In buzzing Toulouse, taking a break between visits and shopping sessions is a pleasant necessity. Whether you like luxurious cafes with Chef-made French pastries or relaxed and trendy coffee shops, Toulouse has all your sweet-tooth needs covered.
Basilique Saint-Sernin
Completed in 1100s, the UNECO-listed Saint-Sernin Basilica may be the largest romanesque church in Europe.
There's also a large number of relics in the crypt, more than in any other church in France, and many were donated by Charlemagne to the abbey which stood on this site in the 800s.
Outside, the five-storey brick tower is unmistakable, and as you look up you can see where construction was stopped in the 1100s and restarted in the 1300s from the shape of the arches.
You can also marvel at the Porte des Miégeville, with a treasured romanesque sculpture portraying Lazarus and Dives above the door.
Place du Capitole

It doesn't matter if you're shopping, sightseeing or painting the town red, during your break in Toulouse you'll always be drawn back to the square in front of the city hall.
The city seems to gravitate towards this place, and the majestic pink-tinted palace in front of you is older than it looks.
There are fragments going back to the 1100s, and if you walk around to the rear of the Capitole you can see the building's renaissance donjon.
Go inside for a tour to gaze at the frescoes on the ceiling of the Salle des Illustres, and the heartwarming images in the Salle Gervais, where the 19th-century artist painted allegories of love, as this was the town hall's wedding chamber.
Muséum de Toulouse
Not a museum about Toulouse, but France's largest ethnological and natural history institution outside Paris: The Muséum de Toulouse presents more than 2.5 million exhibits.
If you have a thing for natural science you could immerse yourself in botanical, entomological, mineralogical, ornithological, paleontological and many other "logical" galleries for hours! Many of these collections were gathered by the most inquisitive minds of the 19th century.
This applies to the prehistory section, with Neolithic axes, a Mesolithic tomb and a bronze necklace from the Holocene epoch.
Fondation Bemberg
Hôtel d'Assézat , the Bemberg Foundation's distinguished home, is a marvel by itself.
This mansion was designed by Nicolas Bachelier, Toulouse's most prestigious renaissance architect, and took almost 30 years to complete.
It was built for Pierre d'Assézat, who built his fortune on the woad trade, but was penniless by the time his plush palace was completed in 1581. The art gallery within is just as magnificent, and is founded on the collection of Georges Bemberg, a prodigious 20th-century art patron.
It's tough to pick standouts, but you have to see the works by Venetians like Canaletto, and fin de siècle French artists such as Monet, Pierre Bonnard Matisse and Cézanne.
Musée Saint-Raymond
Next to the Saint-Sernin Basilica's is Toulouse's archaeological museum.
As is often the case, the museum building warrants your attention; erected in 1523, it was a school for poorer students at the University of Toulouse.
The exhibits run from prehistory up to the year 1000 and deal with a host of Mediterranean civilisations, but with an accent on Gallo-Roman history.
The entire ground floor is taken up by the finds made at Villa Chiragan southwest of Toulouse, with an astonishing set of Roman busts of emperors and their families, but also representing many more personalities from Roman Gaul that are yet to be identified.
Church of the Jacobins
This Jacobin convent is the last word in southern French gothic design.
It was finished in the 1300s and is noted for its awesome dimensions, with a double nave and vaults that reach almost 30 metres.
The best bit is at the apse, where you can feast your eyes on the palm tree, a column culminating with 22 ribs that curve outwards to form the vault.
You can see how it got its name, as this element has an arresting organic quality to it.
The relics of Thomas Aquinas, one of the great thinkers of the medieval period, are also found in this church.
Cité de l'Espace
If there was ever a day out that could recapture your childlike sense of wonder, it's a theme park all about space exploration.
If you or your little ones are fascinated by the cosmos then you could devote a day to watching mind-expanding IMAX movies and planetarium shows.
Space travel geeks might hyperventilate when they set foot inside the actual Mir space station, which orbited the earth from 1986 to 2001. There's also a life-size replica of the European Ariane 5 rocket, which has completed more than 70 successful missions since 2003.
Musée des Augustins
Picking up from the Musée Saint-Raymond, this attraction covers art and sculpture from the medieval period up to the early-20th century.
Once again, the building is an important ingredient, dating to the early-1300s and exemplifying the southern Gothic style.
The medieval religious sculpture in this museum is superb and was rescued from convents and churches that were being destroyed around the region in the 1800s.
The fine art collection is mostly from between the 1400s and 1700s, with works by an array of Italian renaissance artists, and Flemish and Dutch masters like Rubens, van Dyck, van Goyen, Cuyp and Jordaens.
Jardin Japonais
In Compans Cafarelli, some way north of the centre, is a park classified as a French "jardin remarquable". It's a Japanese Garden, which is rather unusual given Toulouse's southern latitude, and is inspired by the gardens of Kyoto from between the 14th and 16th centuries.
The garden is full of symbolism, and about as conducive to meditation and rest as it gets, but it helps if you visit early when there are fewer people around.
Cross the bridge over the pond to the island representing paradise, and look down at the koi and turtles.
There's a bust in the garden of Taisen Deshimaru, who established numerous Sōtō zen dojos around France in the 70s.
Canal du Midi
Another UNESCO site the Canal du Midi is not just another waterway, but a mind-boggling work of 17th-century engineering; part of the 430-kilometre Canal des Deux Mers that linked the Mediterranean with the Atlantic.
Strictly speaking the Canal du Midi is just the 240-kilometer-long waterway that begins in Toulouse and stretches to the Étang de Thau by the coastal city of Sète.
It was ordered by Louis XIV and made by the genius Pierre Paul-Riquet, taking 15 years to complete.
Walk or ride on the tow path next to its green waters, or check out the old locks on a cruise.
Trip on the Garonne

Departing throughout the afternoon are boat tours taking you on a circular trip around the wide River Garonne as it passed by some of Toulouse's most photogenic monuments, including the L'Hôtel-Dieu Saint-Jacques and the solemn dome of the Hôpital de La Grave.
It's the only way to truly appreciate Pont Neuf, the oldest bridge in the city, constructed in the 1500s.
The cruise will also show you the Port de l'Embouchure, which is the historic intersection between the Garonne, the Canal du Midi and the smaller Canal du Brienne.
Toulouse Cathedral

The city's cathedral is outshone by the Saint-Sernin Basilica and the Church of the Jacobins, but still has plenty to recommend it.
Construction took place across 500 years, and the plans were reconfigured several times, giving the building an unorthodox appearance.
It looks like two different churches stuck together, because that's pretty much what it is.
But there's loads of historical interest, such as tapestries and carved walnut choir stalls from the early-1600s.
The stained glass windows are the oldest in the city, and the most ancient can be seen at the chapel of Saint-Vincent-de-Paul, dating to the 1200s.
Musée Georges Labit
Georges Labit was a 19th-century roving dilettante with a passion for art and artefacts from ancient cultures.
He took it upon himself to find interesting pieces and then bring them back to Toulouse to be sold in his family's department store.
This museum showing off his personal collections from ancient Egypt and East Asia was set up in 1893 and is found in a tremendous Moorish revival palace by the Canal du Midi.
There's three millennia worth of artefacts to discover, including Edo-period samurai armour, Coptic art from Egypt and buddha statues from Afghanistan, India and Burma . The preserved mummy and sarcophagi in the Egyptian galleries are real crowd-pleasers, as you'd expect.
Stade Toulousain
Toulouse has a team in Ligue 1, the top tier of French football, but in southwest France this sport takes a back seat to rugby.
Stade Toulousain contributes more players to the French national team than any other club in the country.
They also have more Heineken Cup (European club tournament) trophies to their name than any other team in the sport, and lead the way for domestic titles in the France Top 14. If you're a sport fan around in the winter and can get a ticket, you need to go and see them play: The atmosphere is special, and it's one of those experiences you'll be able to brag about when you go home.
Games are held at Stade Ernest-Wallon,or at the larger Stade Municipal for the more prestigious match-ups.
Toulouse Gastronomy

Cassoulet is a delicious casserole, best eaten in winter when you might need warming up.
It's a medley of meat including duck, goose, but mostly pork products like Toulouse sausages and skin.
This is cooked down in a terracotta dish with large white haricot beans into a thick, rich broth; accompanied by red wine from Fitou or Corbières and you've got the perfect meal.
The main component, Toulouse sausage, is one of the southwest France's great culinary contributions; it's generously seasoned, meaty and completely free of additives.
There's a great deal more to the region though, from roquefort cheese to violet, which is often fermented into a vinegar for colourful salad dressings.
attis, pulvinar dapibus leo.
Museum of Natural History
The collection of the Natural History Museum has over 2.5 million exhibits. The exhibitions present paleontological, ornithological, geological and prehistoric collections. The most interesting exhibits include the full skeleton of a woolly rhinoceros and a stromatolite that is over 3.2 million years old.
France's fourth biggest city has a lot to offer, and a stroll along the Garonne and the Canal du Midi is a perfect way to spend the day. With its 2,000-year-old history, Toulouse will satisfy everyone with an interest for architecture and museums but there are also activities for the more active traveller -hire a bike and pedal the 40km long way from Toulouse to Port Lauragais on the south bank or go on an adventure out of the city in one of the region's amazing parks. Young, family friendly and with lots of culture, Toulouse never gets boring.
Toulouse, also named La Ville Rose – the "Pink City" – due to its red-brick buildings that seem to subtly change colour throughout the day, is one of France's most exciting provincial cities. Once a city that inspired the medieval poets of courtly love, Toulouse has become a pioneer in technology and aerospace development. Toulouse holds on to a resolutely old-fashioned French soul, with its markets, regional cuisine and cafés interspersed between second-hand bookstalls and antique shops.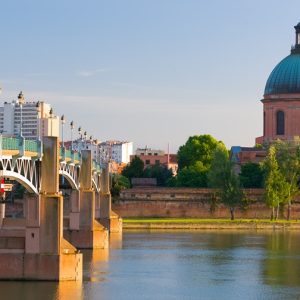 This 2,000-year-old historical city shows off its brick and tile architecture, typical of the cities, villages and farms of the Midi-Pyrenees region. But with a growing and buzzing student population, the city is certainly not stuck in a time warp. With an abundance of bars, cafés, trendy shops and nightclubs, Toulouse offers a truly cosmopolitan experience.