Discover the exquisite world of French wines with Lauthentic France's exclusive wine tasting tours. Explore renowned wine regions like Lagrasse, Carcassonne, Montpellier, Albi, and more. Immerse yourself in the rich flavors and history of French winemaking. Book your wine tasting tour today!
Indulge in the captivating world of French wines
Embark on an unforgettable journey with Lauthentic France's Wine Tasting Tours. Immerse yourself in the allure of exquisite flavors, rich traditions, and the joy of exploring picturesque vineyards. Discover the artistry of winemaking as you savor the finest wines crafted in renowned regions across France. Join us for an extraordinary experience that combines luxury, culture, and the passion for wine. Book your wine tasting tour today and unlock the enchanting secrets of French viticulture.E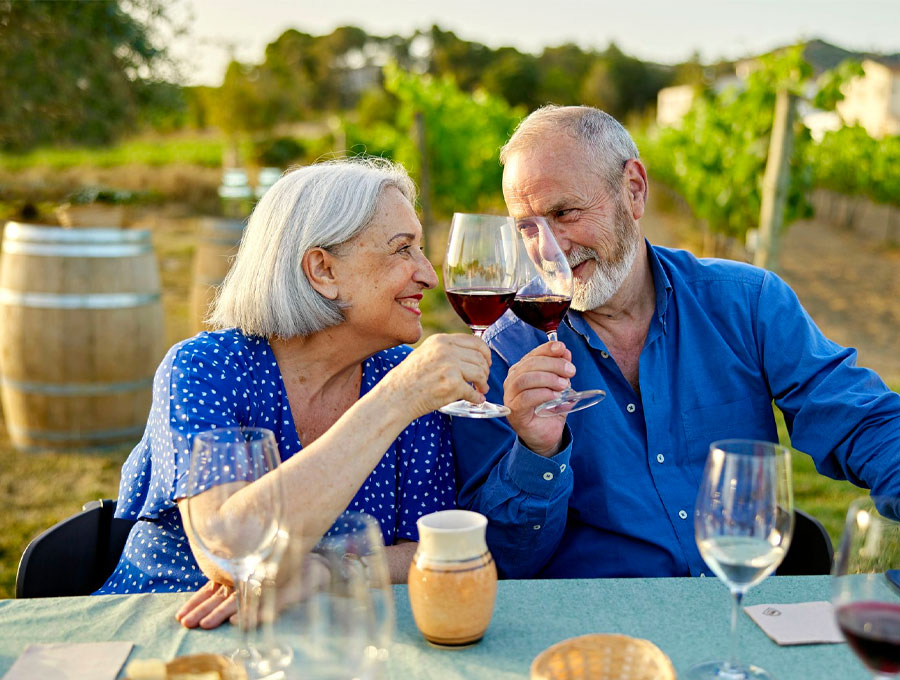 Why Book a Wine Tasting Tour with Lauthentic France?
Expertise in Luxury Travel and Wine Experiences
Lauthentic France brings together years of expertise in luxury travel and a deep understanding of the world of wines. Our team is well-versed in curating exceptional wine tasting tours that offer unparalleled experiences.
Personalized Itineraries Tailored to Your Preferences
We believe that every wine enthusiast has unique tastes and preferences. That's why we create personalized itineraries, taking into account your wine preferences, desired destinations, and any specific requests you may have. Your wine tasting tour with us will be tailored to meet your individual needs.
Exclusive Access to Renowned Vineyards and Wineries
Lauthentic France has established strong relationships with prestigious vineyards and wineries across France. Through our network, we provide exclusive access to renowned wine producers, giving you the opportunity to explore hidden gems and sample exceptional wines that are not easily accessible to the general public.
Professional and Knowledgeable Guides
Our wine tasting tours are accompanied by professional and knowledgeable guides who are passionate about wine and well-versed in the local wine culture. They will share fascinating insights, stories, and anecdotes about the vineyards, winemaking techniques, and the regions you visit, enhancing your overall wine tasting experience.
Immersive Cultural Experiences & Events
Beyond wine tasting, our tours offer immersive cultural experiences. You'll have the chance to explore charming villages, visit historical landmarks, and indulge in regional cuisine that perfectly complements the wines you taste. Immerse yourself in the local culture and embrace the art de vivre of the French wine regions.
Seamless Organization and Attention to Detail
At Lauthentic France, we take care of every detail to ensure a seamless and stress-free experience for our guests. From transportation and accommodations to vineyard visits and tastings, we handle all the logistics, allowing you to relax and fully enjoy your wine tasting journey.
Top Wine Tasting Tours by Lauthentic France
Latest From Wine Tasting Blog
Abbaye de Fontfroide The romance of Occitanie starts with its architectural masterpieces, and no place embodies this charm better than…
The commune of Castelnaudary is one that you must visit and explore on your south of France holidays. While the…
Bonjour, travel connoisseurs and ardent admirers of the French charm! At Lauthentic France, we are thrilled to announce a new…
Lauthentic France Wine Tasting Reviews
The wine tour with Lauthentic France was an extraordinary experience. From exploring vineyards to savoring exquisite wines, every moment was filled with joy. Highly recommended!
I had the most incredible time on Lauthentic France's wine tour. The personalized itinerary and exclusive access to renowned wineries made it truly special. A must-do for wine lovers!
Lauthentic France's wine tour exceeded all my expectations. The knowledgeable guides, stunning vineyards, and exceptional tastings created a truly memorable journey. I can't wait to book another tour with them!
If you're looking for an unforgettable wine adventure, Lauthentic France's tour is the way to go. The seamless organization, immersive cultural experiences, and remarkable wines made it a trip of a lifetime.
The wine tour with Lauthentic France was a dream come true. From the charming villages to the exquisite wines, every moment felt like a celebration. Thank you for an unforgettable experience!