With over 2000 years of history, dozens of monuments, impressive medieval streets, and beautiful boulevards, Poitiers boasts a rich and fascinating heritage. But the city has more to offer than just memories: its trendy cafes and cool bars, as well as its lively student population, keep the city young and vibrant.
Many shops are generally open from Monday to Saturday between 9:00 and 19:00. Shops are open on Sundays and public holidays at their own discretion.
History & Culture
Poitiers is called the city of art and culture due to the vestiges of thousands years of history, presenting a bustling centre where it's a pleasure to wonder and get lost in its intricate maze of cobbled streets. The city offers many famous historical sites like the magnificent Romanesque church Notre-Dame la Grande, which has become the city's landmark, and the impressive Saint-Pierre Cathedral. If you would like to visit a more modern attraction, head to Futuroscope, a technological theme park that is an entertaining option for any age. Val Thorens was always designed to have the highest altitude ski area in all of Europe. The splendid view of the Péclet glacier from the Cime de Caron makes this place a serious contender for the title of the most beautiful place in France. As the Val Thorens was being developed, the minds behind the project were told that their dream of building the highest altitude ski resort in Europe wouldn't be feasible. Today, Val Thorens boasts the highest altitude ski resort in Europe and single-handedly draws the largest crowd of international tourists each year. This makes it a skiing resort you must see in France.
Do & See
If you are you craving something sweet and would like to relax between all the shopping and sightseeing, then head to one of the cafes the city has to offer. Here you will find everything from tea houses, with their wide selections of brews and cookies, to bakeries that will not fail to satisfy your desires.
The City
Poitiers is a mix of history, beautiful architecture and modern life. Alternatively called the "City of a Hundred Bell Towers", it features 78 protected historic monuments and medieval streets, 19th century boulevards and half-timbered houses. Famous monuments such as the church Notre-Dame la Grande and Saint-Pierre Cathedral attract thousands of tourists every year to the city, which is situated on a hill overlooking the Clain and Boivre rivers, making Poitiers a riverside gem with a predominant historical flair. As a major university centre, it also manages to remain young and buzzing, transforming into a vibrant hub thanks to its lively bars, trendy cafes and funky clubs.
There are 400 kilometres of marked trails accessible from Poitiers, and the countryside that borders the city is all woodland, meadows and farms, littered with medieval remains like chapels and old stone bridges. There's some pretty dramatic scenery too thanks to the Clain river, which formed the rocky outcrop on which Poitiers was built. The Clain Valley has steep, rugged walls that will grant the more energetic walkers exhilarating views, and the same can be said for the Auxance tributary, which joins the Clain just north of Poitiers. If you go east along the Boivre river things get gentler as you enter the Bocage Bérugeois, a very bucolic area of hedges, meadows and orchards around the tiny village of Béruges.
Eleanor also commissioned the city's imposing cathedral in 1162, and it was completed around a century later, which was quite swift for a building of this size in medieval times. If you're fascinated by medieval history you could have a field day in here. First, nearly all the stained glass windows in the choir and transept are original, and if you're eagle-eyed you'll identify Eleanor and Henry II in one. The wooden choir stalls are some of the oldest in France, carved in the Parisian gothic style in the mid-13th century. Originally there would have been 100, but even with the 74 remaining you're left in no doubt about the high status of the cathedral chapter in these times.
Grande Salle – Palais de Poitiers
There's only one room to be seen at Poitiers law courts, formerly the seat of the Dukes of Aquitaine and Counts of Poitou, and you have to brave airlines tyle bag-checkers to get in. But if you're curious about English and French history this is small price to pay. Because the Grand Salle was a dining hall ordered in the 1190s by Eleanor of Aquitaine, one of the most powerful women in medieval Europe. At 50 metres by 17 it may well have been the largest in Europe at the time. There are three gigantic fireplaces, wondrous traceries on the windows and sculptures of figures in the court of Poitiers, like John of Berry and Isabeau of Bavaria.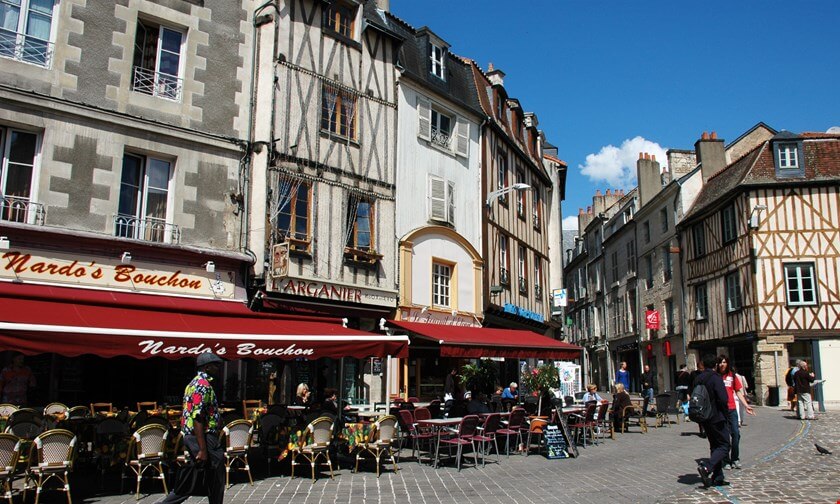 Since the Lumière brothers in the 19th-century France has always been at the forefront of the cinematic arts, and the Futuroscope theme park springs from that legacy. It is France's third most popular theme park and has been dazzling visitors for more than 30 years with simulators, rides and breathtaking presentations in IMAX 3D and 4D theatres. The venues for these rides and shows are phenomenal metal and glass structures, some angular and others rounded, but all with vast dimensions. Most of the shows have set starting times, so as opposed to most theme parks you can plan ahead and not waste your day in queues.
If your head is spinning from all those dates and historical personalities you can go for a meditative walk in the Jardin des Plantes, Poiters' soothing botanical garden. The park has 150 species of exotic plants in its greenhouse, most with medicinal properties. That might be because the park was established by the university's faculty of medicine, all the way back in 1621. The rest of the garden is a freewheeling English park: There's a pond, waterfall and winding paths in woodland scattered with unusual trees like an Atlas cedar and an American bald cypress.