Lunch and Dinner on board
Meals are taken on board respect the standards of the French cuisine with a 4 courses meal. Our products as mentioned before,
are provided by local producers specially selected by us for their excellent quality.

The MAM GOZ Luxury Hotel Barge offers barge cruises in the South of France. Along the french canals, waterways, and rivers of the Canal du Rhône à Sète, the Canal du Midi, and the Rhône river. The MAM GOZ Luxury Hotel Barge can be booked as a private charter for up to 6 passengers. Ideally situated in the South of France, the MAM GOZ Luxury Hotel Barge is moored in Aigues-Mortes, close to Avignon, Nîmes, and Arles between the wild Camargue and the fascinating Provence. A hotel Barge in French waterways Upper deck MAM GOZ is a hotel barge in France cruising the Provence. Specially adapted to the Canal du Midi, it has a maximum length of 29.8 m to enter the locks. Ideally built to navigate the rivers and waterways of southern France, MAM GOZ can accommodate up to 6 people.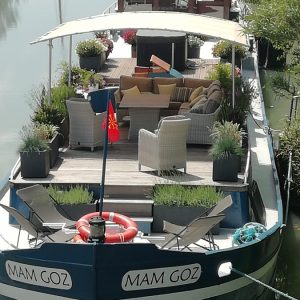 Discover the culture of South of France

Eric and Christel love the cuisine from the South of France influenced by the different Mediterranean cultures. This cuisine is a synonym of sun and friendliness. During your canal barge cruise in Provence, we will share with you our passion for Southern French cuisine. Quality of products is essential. So, Eric and Christel spend the winter season looking for the best producers in the region which
work in respect of the environment and with a high-quality goal. They taste and select local products to offer you the best cuisine. Similarly, they visit cellars and vineyards of the Rhone, Provence, and Languedoc to serve you the finest local wines. These products are tastefully prepared by Eric. Fish, meat, and vegetables simply seasoned with olive oil, fresh spices, and herbs of the region; there lies truly the secret of his cuisine: simple, colored, just good.
To start the day well, breakfast must the generous. On MAM GOZ, we will serve a traditional French breakfast with hot drinks: coffee, tea, chocolate, or milk with fresh orange juice. Croissants and similar products such as chocolatine will accompany the French baguette with honey and jam. Of course cheese, ham, and eggs as well as cereals, yogurt, and dried fruit will also be available to satisfy you.
Before each meal is taken on board, an aperitif will be served on the upper deck. It will be a privileged moment to discover new wines and grape varieties of this rich and wonderful region. Of course, other spirits such as gin, vodka, whisky, and pastis will be on board to satisfy you as well as sweet wines from the region such
as MUSCAT DE LUNEL Clos de Bellevue, the famous French vermouth Noilly Prat or Banyuls. You will have at your disposal softs, orange juice, and the worldwide known sparkling EAU de PERRIER from which the source is located only a few kilometers from the waterway we are barging. Your aperitif will be served together with Mediterranean « mises en bouche » for example tapenade, caviar d'aubergines, or anchoïade.
Lunch and Dinner on board
Meals are taken on board respect the standards of the French cuisine with a 4 courses meal. Our products as mentioned before, are provided by local producers specially selected by us for their excellent quality.

The Rhône-valley, second vineyard after the Bordeaux region, has AOC wines among the most remarkable of France (Côte-rôtie, Hermitage, Chateauneuf-du-Pape…). Les Côtes de Provence produces a generous and full of sun wine with wonderful rosé wines. During our barging in the south of France we will come across some local vineyards such as Clairette de Bellegarde, Costières de Nîmes that might surprise you. The Languedoc at last is the largest wine region of France between the mountains and the Mediterranean. For a long time,it produced low-quality wine tables. But for the last 30 years the wines of the Languedoc thanks to passionate men and women produce nowadays remarkable wines to be tasted during the cruise. So to discover or discover again the vineyards of our beautiful region, a different wine will be proposed at each meal according to your taste and of course adapted to the menu proposed. You could taste for example, a Châteauneuf-du-Pape Domaine Mont Redon or the famous Fiole du Pape, a Côte-rôtie Domaine de Bonserine, a Gigondas Domaine des Bosquets, a Clairette de Bellegarde Terre des Chardons, a Vin des Sables Montcalm Prestige, a Costières de Nîmes Château Beaubois or a Pic Saint Loup Domaine de l'Hortus, or a AOC Languedoc La Clape Château Mire l'Étang… Natural or sparkling water and orange juice will also be at your disposition.
Lunch or dinner taken outside
According to the day or the place, we visit we can choose either bistro, gastronomic, traditional or even sometimes exotic cuisine. Meals taken outside are important: it's the time to rest between two visits or after a cruise; time to relax; the pleasure to be together but also to discover other atmospheres and new flavors.

MAM GOZ is a Luxemotor barge built in 1923 in Papenburg, Germany. In 2005, she started a new life after being shortened by 8 m to be adapted to "le Canal du Midi". Until 2015 she was run as B&B in Colombiers, near Béziers on the "Canal du Midi". In July 2016, OZ crossed France to a Belgian shipyard to be refitted. Renamed MAM GOZ, meaning grandmother in the Breton language, she moors now in Aigues-Mortes where she will be run as hotel canal barge cruises on the waterways of the South of France and the Rhône. Today, MAM GOZ barge is homologated by the French administration "Voies Navigables de France" as a 6 passenger commercial boat. Christel and Éric have worked in transportation and tourism for many years. They decided to return to the South of France where they have already operated a passenger boat. They want to share their love of this region by cruising with MAM GOZ. Eric, captain for more than 20 years,
is also passionate about cooking. This passion comes from his grandmother and mother, true "cordon bleu". They transmitted to him their knowledge of traditional cuisine, tasty and generous. He returned to school in 2017 during one year to be a professional cook and learn the basics of French cuisine. Christel has worked for a long time in a travel agency and knows perfectly "le Midi de la France". She will share her passion for Provence and Camargue with her guests aboard MAM GOZ. The crew of MAM GOZ is completed by a pilot who allows Éric to prepare delicious menus. Depending on the excursions, a guide or a specialist in nature can accompany you in discovering the sites, monuments, and parks that make the richness of Provence and Camargue. The last crew member is Jazz, an adorable little Coton de Tulear. This is the mascot on board, but he can stay with friends onshore during the cruise if you prefer. His presence is obviously not obligatory.
Canal Cruise
Highlights
Use of onboard bicycles
Excursions and activities as mentioned in the program with a private van
3 glasses of wine with ashore lunches or dinner
All meals (breakfast, lunch & dinner) with their accompanying wines from the region
WIFI
Chromotherapy
Safe
Terrace
Overview
"It's been a few weeks since our return home from a week aboard the lovely Mam Goz and my husband and I have talked about it every day since. Such a spectacular holiday that far and away exceeded our lofty expectations. A difficult sleeper and as such not a great fan of travel involving time zone changes, my husband had a marvelous time and I could see the joy on his face as he luxuriated on the barge, feasted on the world class cuisine and wines, walked the medieval cities and villages – and basked in the hospitality of our host family. Images of France now grace our walls, lavender is planted and the wine rack is full of French vintages. It was a delight from start to finish in every regard. Merci beaucoup to Eric, Christel and sweet little Jazz for a delightful holiday and for the warm friendship."
"Thank you so very much for an extraordinary voyage. You were such generous hosts, and Eric your gourmet meals were (ooh la la!) so delicious… And Christel, we appreciated your constant attention to all our needs. Jazz is adorable, and please, thank Joël and Tom for us as well. It has been an unforgettable week!"
"We loved every minute! Best was just sitting on the deck and watching the shore go by. The town excursions were great too.We had two guides who really helped us experience the history of Avignon and Arles. The salt production was less interesting, but the rowdy French holiday makers on the bus made it fun.The olive tasting was great too. The cuisine was excellent. Eric served an interesting dinner every night ususally with fresh seafood. Breakfasts and lunches were tasty too. It was a truely wonderful experience in every way. I loived that we went from a large river, the Rhone, to a canal in the Camarque. Christel and Eric could not have been more friendly and accomodating. Every stop was fascinating. I didn't want the voyage to end. Just want to say we saw some of the other barges and we were so glad we were on the Mam Goz. It's a beautiful boat with a history. Our hosts felt like friends by the end of the trip."
Stanley
2019
"I have delayed giving my feedback because I find it difficult to write anything that will do justice to the wonderful holiday we experienced.Eric and Christel are fantastic hosts. Eric is an excellent cook and we always enjoyed his food. There was always plenty of food and wine and Coca (for me). The barge was comfortable and tastefully decorated. We also enjoyed the company of their dog, Jazz. The people we met were also great. Joel the pilot was always friendly and welcoming in the wheelhouse. The guides Isabelle and Elodie were knowledgable and very nice. The excursions to the Parc Ornithologique and Salins du Midi by 4×4 were educational and we had very enthusiastic young guides. The three lunches ashore were at well chosen and good restaurants. Eric and Christel were meticulous in their planning and it shows because everything ran smoothly from the start. Everyone in our group enjoyed our time onboard the barge Mam Goz and we wish Eric and Christel many successful barging seasons on the canals."