La Belle Epoque is the perfect vessel to take you on a gentle voyage of discovery through a region studded with traditions and history that go back centuries. As she meanders along the Burgundy Canal with its undulating countryside, you fill find that the towpath is always there for spot of walking or cycling.
La Belle Epoque in her first life carried logs from Burgundy to Paris, but today she is transformed into a deluxe hotel barge carrying a very different cargo along the very same canal.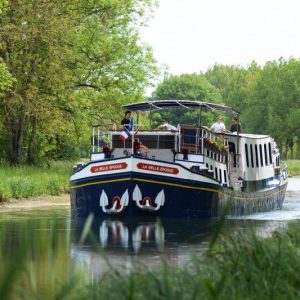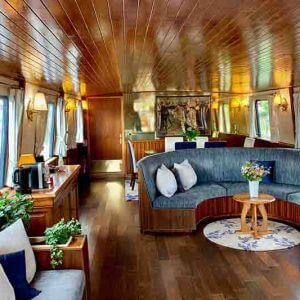 She has been designed with both elegance and passenger comfort in mind and her welcoming features include a wood-panelled saloon/dining room with bespoke, hand-built seating and a spacious sundeck with spa pool. The comfortable cabin accommodation comprises two junior suites and four staterooms and a choice of twin or double beds, all with marble en-suite facilities.
Canal Cruise
Highlights
Visit the UNESCO World Heritage Site of Abbaye de Fontenay

Private tasting of Chablis wines at the prestigious Domaine Laroche, including a visit to the 1000 year old

monastery cellars

Visit to the Château de Commarin for a unique falconry display

Private Champagne Tasting at the Alexandre Bonnet Champagne House
Dine with the Baroness Segolene de Taisne at the magnificent Château de Ricey-Bas
Excellent towpath for walking & biking. "Biking Plus" option available
Optional hot air ballooning
6 Crew
126 Feet Long
2 Twin/Double Junior Suites
4 Twin/Double Staterooms
Air Conditioned / Centrally Heated
Spa Pool
Overview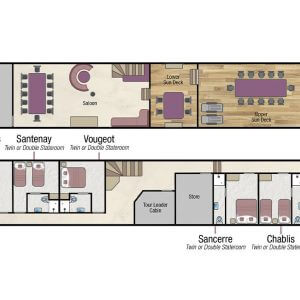 Cannot say enough about the crew and their timeless efforts to make our experience a memorable one. 5 stars to Remyi, Agata, Chef Luis, Capt Luke, Brice and Leo.
It was a terrific value. The food and wine were plentiful and the staff was so accommodating.
All good with Capt Luke an inspiration for all hands. We had a terrific time walking, eating and resting as well as visiting historic places.